ROADIE!!! (and yes, Eddie Sutton smiles)
12/23/05

Anyone who knows Marcy and I know we don't exactly get an early morning start to anything, and thus our roadie which was supposed to begin at 7am really didn't get going until around 9am on the 23rd. After we finally got up, with an iPod stocked with 3,500 songs and a tankful of gas we were ready for the eight hours to Fort Worth. Setting off on our way down I-35, we entered the vast stretches of farm and ranch land that is southern Kansas and Oklahoma. Alternating between Interpol, A Tribe Called Quest, Outkast and Charlie Parker we cruised through hundreds of miles of uninterrupted land, and what starts out as an awesome expanse of the Bread Basket of America slowly turned into just monotony.





We went with only a single stop through Wichita, Oklahoma City, Norman and then finally arrived in Forth Worth (more about these on the way back). We made it to the stadium on TCU's campus around 5pm, though traffic delayed us actually making it out the car until about 5:30pm. It might as well have been Lawrence South when we got out, there were so many KU fans. A quick stop in the KU tent landed us a couple of beers and a chance to poke around the stuff set up for the kids before we picked up our tickets at will-call and got into the line. This was probably the worst part of the day, as they only had one gate open, and it took us about 15 minutes to clear through and into the game.



(KU fans outnumbered UH fans by a ton - kusports.com)

Once inside the stadium, it became even more evident that KU had brought a surprisingly large number of fans to the game – about 2/3 of the announced total of 34,000 for the game. Considering that it was a pre-Christmas bowl for a team not known as a football school, it was a terrific turnout. The game got started, and KU immediately took control with an early punt return for a TD and an aggressive offense that looked completely different from the abysmal unit from the first half of the season (Houston's porous defense had a lot to do with that as well). Houston actually moved the ball a bit in the first half against KU's heralded defense, mostly by forcing the KU linebackers into coverage on slot receivers / backs and then running them out of the middle of the field. After a bad KU turnover near the end of the half, it was 14-10 at the break. Once KU switched to a bit more of a short zone early in the second half to keep their LB's in the middle of the field and stop the dink and dunk attack, their d-line really took control and put the game out of reach. By the 10 minute mark in the 4th quarter, it was all over except for the celebrating – which the largely pro-KU crowd was only too happy to begin.

(Kevin Kolb had a long night - kusports.com)

After the final gun, the celebrating and the award ceremonies – we headed back to the hotel to get ready to go out and celebrate. Yeah, that really went well as soon as we saw the hotel bed after 14 straight hours on the go, I guess I'll have to check out downtown Fort Worth at a later date (something tells me we didn't miss all that much).
12/24/05
After crashing out hard on the night before, we woke up fashionably late around 10 and got ready to leave the "spectacular" Fort Worth (P)laza Hotel – with Jack and Jess joining us for the trip back. We had sort of discussed that we'd stop in Norman and Stillwater to see the campuses and sports facilities as a road trip back, we didn't have anything pressing us for time and it would be fun to see places we'd never been before (and really, it's not everyday you're in Oklahoma).
First stop though, lunch at Texas Roadhouse (yes, it's a chain, but it was open on Christmas Eve and we weren't in any position to be snobby) – and the waiter did call us 'pardner so it had the Texas flavor.

(Jess, Jack, Marcy and Myself trying to stand up straight in 25mph winds)
As we were leaving
Texas
after lunch, Jack kept bringing up the huge number of flags you see in
Texas
– and the state flag is higher than the
US
flag, of course. There's a ton of state and national pride on display in
Texas
, and the flags are just part of it.
(Note which is taller)
The Red River was more like the Red Creek where we crossed it, but it's a good time to bring up the fact that about 75% of the cars we saw in Texas and Oklahoma had stickers for the college football team of their choice on them. As it turns out, Oklahoma is large stretches of nothing, but red tinged nothing which is slightly more interesting than Kansas's large stretches of brown nothing this time of year (and trust me – between Lawrence and Wichita there isn't anything other than grass and barbed wire).

(Marcy keeping entertained with the vast expanse of nothing surrounding us)
We felt the need to start singing Boomer Sooner as we entered Norman, but try doing that for about 4 bars without getting it confused with the Indiana Jones Theme song. Seriously, try it – it's impossible. I'll be honest, I didn't expect much from OU's campus. I know that Oklahoma is the dust bowl era place I think of (thanks Grapes of Wrath), but the campus was very nice and very well laid out. The consistent brick theme, with the slightly gothic architecture, was attractive and the campus was clean and quite modern – except the giant water tower which is completely out of place. Memorial Stadium is a very impressive structure, with gorgeous brick work and well laid out area surrounding it on campus. We stopped in the parking garage attached to the stadium and poked around, taking in the sights. While it's not completely enclosed like several of the large southern stadiums (the end zone seating is separate bleachers) it's huge and the seating is well designed – I doubt there's a single bad seat in the house. Overall, it's very obvious that Sooners love their football, and have a fantastic facility to play it in. The practice field and in-door training facility are both right next to the stadium, and top notch as well. Heck, the OU practice field looked nicer than that rug Texas Tech still plays on for their game field.

(Jess, Marcy and Jack outside Memorial)

(This watertower doesn't fit the campus theme at all)

Only downside to Norman? The 7-Eleven didn't have Slurpees – it had "Icy Drinks" … this was a major issue that required several minutes to sort out properly. I mean, we didn't want some second rate offbrand frozen sodas here.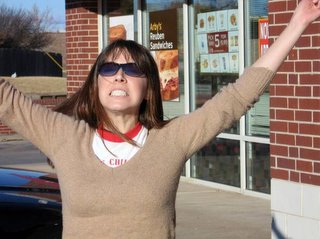 (Marcy celebrating the fact that at least Arby's in Norman has Jamocha shakes)
And just to prove that Oklahoma fans are still Oklahomans, we saw this beauty while driving away – notice the busted out back window to add to the allure. Georgia fans would be proud to know they have relatives to the west. The bumpersticker said "The two most hated words in football - Touchdown Oklahoma".


(There's the Oklahoma I was expecting)
After leaving Norman we entered Oklahoma City, and lets just say that I really have never thought there was a skyline in the state of Oklahoma. It's an enormous urban sprawl around the city, about the same size as Kansas City. Unfortunately, they are currently under the hold of Lord Voldemort (aka George Shinn) – and no city deserves that. Norman is basically a suburb of OKC, with there being no discernable point where Norman really ends and OKC begins, I'm sure I-35S is pretty busy on Saturdays.


(OKC skyline as we leave town)
North of OKC is the worst Six Flags Ever? Seriously, there's like 1 roller coaster and about 4 other rides. I'm pretty sure I knew kids growing up who had bigger jungle gym sets in their backyards. But anyways …

(That picture is basically the entire park)
Driving further along, we pulled off I-35 and drove the 15 miles through the middle of nowhere to get to Stillwater. As we go along, we're cracking jokes about the location and the lack of scenery as we approach the town "is that barn the campus", etc … Uh, wow – we were wrong. Once we got onto campus, it's huge – and very modern. I expected the typical land grant institution collection of mismatched buildings, old structures and slightly run down infrastructure. Instead, OSU has a consistent theme of brick buildings, and while many of them are similar (there's a bit of cookie cutter construction going on in Stillwater), it's obvious there's been a ton of money put into the dorms and academic buildings. Lots of glass, a beautiful International Trade building and every other building having the word "agriculture" in the title stuck out the most. Overall, maybe not as unique and slightly quirky as OU was, but even more surprising to me based on my preconceptions.

The big stop though was Gallagher-Iba Arena, one of the four basketball arenas that I consider to the best in the country (Rupp, Cameron and Allen Field House being the other 3), and the only one that I had never been to before. Unfortunately, it was 6pm on Christmas Eve and the building was closed and locked. We ran around trying each door hoping someone had left one unlocked, but no luck. We pressed our faces up against the glass and looked at the banners hanging from the roof and the retired jerseys in cases inside the arena's entrance, from Thurman Thomas and Barry Sanders to Big Country Reeves. For my GT readers, it's attached to the football stadium and is very similar to the Edge, except with floor to ceiling glass walls on the exterior – perfect for sightseeing. GIA is actually attached to the football stadium on one end zone, along with the ticket offices and the front museum area for OSU sports. It's a very attractive brick building that blends seamlessly together, though it also means that as the complex has been built around GIA (especially the final remodeling 4 years ago) there is nothing left of the original 1937 exterior, or at least that we saw. As a matter of fact, from the outside it's very difficult to tell exactly which area is the basketball arena.

(Jack, Nathan, Jess [L] - Nathan and Marcy [R])
After a few minutes and some pictures in front of the GIA sign, we were getting cold and it was time to head back to the car and get back on the road again. Marcy was trying one last door for the second time, when Jack noticed a luxury car pulling up, and an older gentleman got out and was unlocking one of the doors. Unsure of who it would be, we walked up and were hoping we could ask for a quick peek inside. When he turned around, it was OSU head coach Eddie Sutton and he surprisingly didn't think we were hoodlums lurking around the stadium (guess Stillwater is pretty low crime). After explaining that we were there basically just to see GIA, and were returning to Lawrence – which I'm sure the Kansas sweatshirts had already made pretty clear, he agreed to let us inside, but with the forwarning that he didn't think the lights were on. Coach Sutton explained to us that he'd just returned from a personal trip, and took a picture with us in front of the Pistol Pete statue right inside the entrance.
(Marcy, Nathan, Coach Sutton, Jack in front of Pistol Pete)
Coach Sutton led us through the players entrance on the lower level to the arena, where the lights were about half on. As he walked us through and unlocked each door on the way, he mentioned how most people consider GIA and AFH to be the two best arenas in the Big XII (2 of the 4-5 best in the country, in my opinion) and was very complimentary of Kansas's program and the Field House – Jack was kind enough and smart enough to NOT point out that he'd never won in Allen. When we got out onto the floor, GIA is gorgeous – like I'd expected it to be. It's very orange on the inside and the white facing with "Welcome to historic Gallagher-Iba Arena" is a unique touch above the collapsible bleachers on the lower rows – that facing is a much more noticeable architectural structure in person that it appears on TV, clearly delineating the sections and ringing the floor at a pretty low level. GIA is much larger than Cameron and smaller than Allen Field House – plus all the seats are chairbacks, as opposed to bleachers in those two arenas. I assume that you could fit more bottoms into the building with bleachers, and actually it's the first dedicated college arena I've seen which is 100% chairbacks. The roof is flat, and lower to the court than the peaked roof at Allen Field House (or the dome at Alexander Memorial) and because the banners and retired jerseys are in the front museum area, it's just plain black above you – leading even more to the feeling that you are surrounded by orange crushing in from each side. Coach Sutton smiled and laughed when Jack brought up the fact that you could see how it got so loud and intimidating full of orange clad fans, and then was trying to explain the difficulty of getting every KU fan to wear blue (a struggle GT fans can relate to as well). Coach Sutton let us take our time looking around and taking pictures, and asked about where we lived and where in Kansas people were from (Sutton is from Bucklin, KS) - when he found out that I had gone to GT he very nicely commented without animosity "they beat us in the Final Four a couple of years ago" and went on to say "that's a very good school".
(Jack, Jess [T] - Nathan, Marcy [B] on Eddie Sutton Court)
As we were leaving, Marcy brought up the fact that we were standing on Eddie Sutton Court, and Coach Sutton smiled and then mentioned that the floor in GIA is the original floor from 1937 and one of the player's favorite floors because it has a lot of natural "give" or springiness it has still to this day (I tried cracking a Joey Graham dunking on the entire KU team joke – but well, it wasn't funny). As we finally worked our way back out, Coach Sutton wished us a Merry Christmas and said that he had to get to work – at 6:15 at night on Christmas Eve. There have been some rumors that Sean Sutton is doing most of the coaching now, and that Eddie is just a figurehead … but we didn't see Sean there at 6pm on Christmas Eve heading to the office. It's amazing how hard Division 1 coaches work, and I'm sure it's no accident that Coach Sutton has a court named after him and has had the success he has. All in all, a wonderful experience at one of the storied locations in college basketball with one of the living legends of the coaching fraternity. Coach Sutton didn't need to spend any time with us, and certainly not be as friendly and gracious as he was, but he came across as a genuinely nice and kind man, humoring a few curious young kids and showing off the court he calls home.
We still had 4+ hours of driving to go, late at night on Christmas Eve – so we hit the road again, shaking our heads at the unbelievable coincidence of it all and tried to get home as we wrapped up a wild trip. There's nothing quite like a good roadie, and this one certainly fit that description. Hopefully next year it's to a GT bowl game, somewhere in an area of the United States I can realistically get to, and we'll make sure to hit up wherever we can along the way – you never know what will happen, as we clearly discovered this trip.

(11 hours in a car made Jess a crazy man when he finally got back)

(note to my GT readers – I'm wearing JW's KU sweatshirt in most of the photos. I was on a roadtrip to cheer for KU, and frankly one of my pet peeves is people wearing their own teams gear to games which are totally unrelated. My wife has a GT t-shirt which she wears when it's appropriate as well. Hopefully this can save me about 20 e-mails of the "You're not really a GT fan" variety - Nathan)